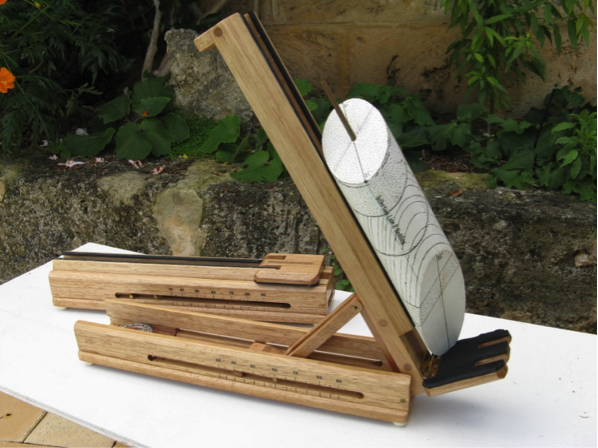 Core Orientation Frames
Setting up core in a frame permits not only measurement of individual structures but, importantly, allows the relationships between sets of structures in the same piece of core to be observed.  Measurements can be constantly compared against the evolving geological model for the deposit as the core is being logged. Significant changes in attitude of structures can be identified and examined in more detail while the core is still laid out. Mistakes in measurement (or problems with the core orientation line) can be quickly spotted.  In short, Core Orientation Frames are GEOLOGIST FRIENDLY.  Even where the method of measuring internal core angles (alpha and beta) is being used a core frame must also be available in order to measure planes with high alpha angles. In addition, a core frame is the only way in which non-penetrative linear structures – such as fold axes – can be measured.
FEATURES:
Compact folding core frame with inbuilt azimuth and inclination scales.
80% of core surface available for observation and measurement
Bottom of hole line visible from below for accurate positioning of core
Suunto™ A10 oil-filled compass with rotating bezel
Measures 38 x 8 x 7 cms and weighs 900g.
Easily fits in to suitcase or field pack
Hand crafted from Australian hardwood, brass and rubber. Finished in 4 coats marine varnish.
Accepts core diameters BQ-PQ and lengths from 10cm-50cm. Also accepts sawn half-core.
For clarity in the illustrations, a model of HQ diameter diamond drill core (63.5mm diameter) has been used. Surface lines mark bedding and an oblique penetrative cleavage. A brass rod marks the core axis.
THE MARJEX CORE FRAME
Designed and made by Roger Marjoribanks.
Frame AU$650 + GST (where appropriate)
Storage box AU$150 + GST (where appropriate)
Enquiries to Roger Marjoribanks
Download Core Frame Instruction Manual 
NOTE
DYNAMICSGEX and WESTERNEX both manufacture supply core orientation frames. Try these links if you wish to compare features and prices with my model.